Newsletter
The veterinarians and staff at Bush Animal Clinic are pleased to provide you with an online newsletter. This fun and fact-filled newsletter is updated on a regular basis.
Included in the newsletter are articles pertaining to pet care, information on our animal hospital, as well as news on the latest trends and discoveries in veterinary medicine.
Please enjoy the newsletter!
Current Newsletter Topics
Blood Testing - What It All Means
We are pleased to provide you with some information regarding blood testing. Do not hesitate to call the hospital if you have specific questions.
Many technologies that help humans live longer, healthier lives are available to your pet. By performing some basic blood tests, your veterinarian can gather information concerning the health and well being of your pet.

COMPLETE BLOOD COUNT
This blood test actually consists of several tests that evaluate the number and type of blood cells in the circulation. Cells that are evaluated consist of white blood cells (WBC), red blood cells (RBC), and platelets.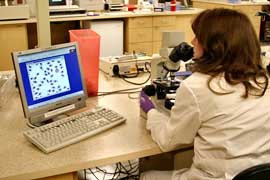 Laboratory Technician Counting Blood Cells
White blood cells are important in helping the body fight infection. Red blood cells are fundamental for carrying oxygen to the body's tissues. The measurement of these cells can indicate anemia, infection, leukemia, stress, and inflammation.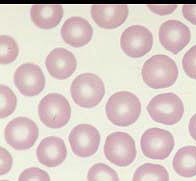 Close-Up View - Canine Red Blood Cells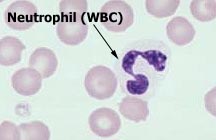 Close-Up View - The Arrow Is pointing To A Neutrophil (Type Of White Blood Cell)
Platelets are involved in the blood clotting process and if low (in number) can indicate a bleeding disorder.
The hematocrit (HCT) provides information pertaining to the relative number of red blood cells (RBC) in circulation. This test is used to diagnose anemia and dehydration.

BLOOD CHEMISTRY
These tests survey many of the organ systems of the body in order to make sure they are working properly.
Albumin (ALB) - Low levels indicates chronic liver or kidney disease, intestinal disease, or intestinal parasites (hookworm).
Alanine Aminotransferase (ALT) - Elevated with liver disease or injury.
Alkaline Phosphatase (ALKP) - Elevated levels can indicate liver disease or Cushing's disease.
Amylase (AMYL) - Elevated blood levels can indicate pancreatic and / or kidney disease.
Blood Urea Nitrogen (BUN) - Reflects kidney and liver disease as well as dehydration.
Cholesterol (CHOL) - Elevated levels are seen in many disorders. Some include liver and kidney disease and hypothroidism.
Creatinine (CREA) - Elevated levels can be due to kidney disease or urinary tract obstruction.
Blood Glucose (GLU) - High levels can indicate diabetes. Low levels can indicate liver disease, infection or certain tumors.
Total Bilirubin (TBIL) - Levels of Bilirubin are useful in diagnosing anemia and bile duct problems.
Total Protein (TP) - This can detect many conditions. Some include liver, kidney, and gasrointestinal diseases as well as dehydration.

BLOOD ELECTROLYTES
Calcium (Ca) - Increased levels are seen with certain tumors and kidney and parathyroiud gland disease.
Phosphorus (PHOS) - Elevated levels can indicate kidney disease.
Sodium, Potassium, Chloride - all should be within normal levels. Vomiting, dehydration, and diarrhea can affect their levels.
Birth of Puppies
About two weeks before the puppies are due, a nesting box should be introduced to the expectant mother. The box should be made from a washable material and located in a warm and secluded area. The bottom of the box should be lined with an absorbent material that can be changed frequently. Newspapers, towels, or clean rags make excellent bed liners.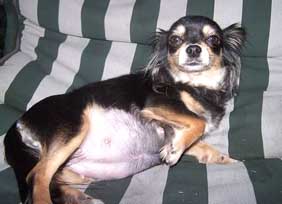 Late Stage of Pregnancy
The first stage of labor is marked by uterine contractions. The expectant mother appears restless and may pace about the house. She refuses to eat and sometimes vomits. The bitch may isolate herself and exhibit nesting behavior. (Hopefully, nesting will occur in the whelping box.) This behavior is normal and there is little that the owner can do. This stage generally lasts 8-24 hours.
The second stage of labor begins when the cervix is completely dilated. The delivery of the puppy occurs during this phase. Phase three of labor refers to the expulsion of the placenta and the afterbirth.
After several contractions, the first puppy is born. If the first puppy is not born within 45 minutes after the beginning of contractions, a veterinarian should be called. The time interval between successive puppies is extremely variable and can range anywhere from 30 minutes to several hours. It is not unusual for a mother to rest between groups of puppies.
Generally when each puppy is born, it is enclosed in a membrane or sac. The mother usually licks the puppy's face and rips open the sac. If this sac is not immediately broken by the mother, human intervention is required. The sac must be opened, and the puppy's face must be rubbed. Rubbing the puppy's face with a clean cloth is an excellent method to stimulate breathing.
A placentas is usually passed within 15 minutes after the birth of a puppy. Occasionally, two placentas may follow two puppies.
There are two normal positions for delivery. The puppies may come out "head first" or "rear first". A "head first" delivery is generally easier than a "rear first" delivery.
Human intervention is required when a puppy is lodged in the birth canal. When this occurs (and the mother is not able to expel the puppy herself), the mother must be restrained and gentle traction applied to the puppy. The puppy is grasped with a clean dry towel and pulled in a downward position, toward the mother's feet. When a puppy is lodged in the birth canal for a considerable amount of time, it is usually born dead.
Following each birth, the remaining portion of the sac should be removed from the puppy's face. Any mucus surrounding the nostrils should be cleared away. Puppies should be placed on a dry clean towel and rubbed. Vigorously rubbing of the puppy stimulates breathing. Using a fine-diameter thread, each umbilical cord should be tied about one inch from the puppy's belly. The cord is cut on the far side of the knot, and the remaining stump (with the cord) is dipped into a white iodine or Betadine solution. If the puppies are similar looking, it is best to number each one with a permanent marker.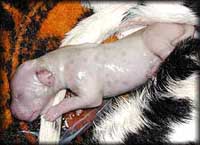 Recently Born Puppy
When the mother is relaxed and she settles down with her puppies, it is safe to assume that the birthing process is over. Within 12-18 hours after all puppies are delivered, the mother should be examined by a veterinarian.
Normal vaginal discharge is brown, green or red in color. A significant amount of discharge is present following birth. This discharge tapers off and gradually subsides in 4-8 weeks. If the discharge is abundant, foul-smelling, pussy, or extremely bloody, a veterinarian should be consulted.
Cats Are Paving the Way to Human Cancer Cures
Cats Are Paving the Way to Human Cancer Cures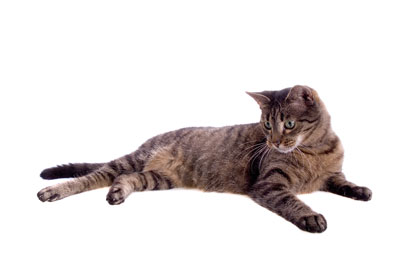 Looks like Whiskers may provide us with more than pet love and companionship. In fact, she may even have the answers to our own medical emergencies.  Researchers have been examining cancer development patterns in animals that may ultimately help inform similar disease patterns found in humans.
Over the span of approximately 50 years and 1,000 cases, researchers have been able to gather key information from cats with intestinal tumors to help identify risks and treatments for humans with similar conditions. Amongst other things, so far the studies have revealed lymphoma to be the most common intestinal cancer found in cats, most of which were found in the small intestines.
Since domestic animals inhabit a similar environment as people, tracking their cancer patterns and developments could help shed valuable light on similar developments in humans. The current studies are all part of a larger project to better understand the convergence of human and animal health. Although the research is still in its early stages, the potential impact of these studies could be huge.
If you are concerned that your pet could have intestinal cancer, look for signs of unexplained weight loss, diarrhea, and vomiting, and call your veterinarian for more details.
Decoding Dog DNA May Help Cure Heart Disease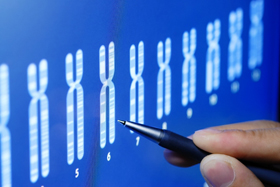 Researchers have long thought that the mapping of human genes and chromosomes holds the key to curing diseases such as diabetes, cancer and heart disease. This research is taking a surprising and sudden leap forward thanks to recent DNA studies of man's best friend--specifically, the Boxer. It seems that dogs are teaching us some new tricks.
With human populations, there is great variance in genetic material from one individual to another. Mapping of human genes has been a painstaking and difficult process partly because of these great variations. Dogs, however, are surprisingly similar within certain breeds. For example, all yellow labs look very much alike, with few differences in facial structure, fur color or eye color. This fact makes the mapping of genes less complex in dog breeds.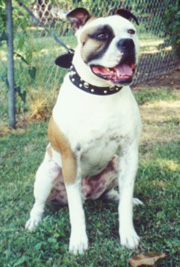 A team of researchers at the Broad Institute in Cambridge, Mass., completed the genetic mapping of one breed, the Boxer, in 2005. By looking at the limited areas of genetic variation in Boxers, researchers have been able to isolate the areas of the chromosome where certain defects reside. For example, this chromosome is responsible for diabetes, this one for obesity.
The Boxer held great promise in this research for advances in human medicine, not only because its genome was mapped first. These popular pets are known for being high-spirited, playful, energetic and strong. But one vulnerability caught the attention of researchers: Boxers are susceptible to a fatal heart disease called cardiomyopathy. This is one of the many diseases shared by humans.
Researchers started looking at the chromosomes of one group of Boxers who had developed cardiomyopathy and comparing them to the chromosomes of a healthy group. When comparing each chromosome of a sick Boxer with the corresponding chromosome of a healthy Boxer, researchers found that most points of comparison were identical. They worked steadily down the genetic map from Chromosome 1. When they came to Chromosome 17, however, they suddenly found a huge number of variations in the Boxers with cardiomyopathy. Using this information, researchers have isolated the genetic mutation responsible for this disease.
Now, with the mutation's identity and location known, the research team hopes to locate the corresponding gene in humans. This means that one day, there will likely be a way of genetically curing this fatal disease. Because of the relative simplicity of the Boxer's DNA, scientists were able to bypass a huge body of painstaking research on the human genome. Without dogs, this process could have taken decades. It's one more reason to call them man's best friend.
Keeping Your Dog Healthy
You And Your Veterinarian Working Together To Keep Your Dog Healthy
Maintaining your dog in top physical shape and optimum health is the goal of every responsible dog owner. It is also your veterinarian's goal, and together, you can ensure that your pet stays healthy for years to come. Crucial to maintaining your dog's good health is the routine physical examination that your veterinarian performs on your pet.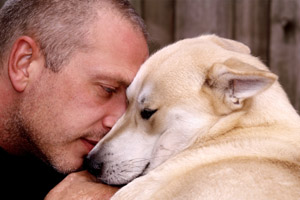 Why are regular check-ups important?
Check-ups are important because they provide an opportunity to prevent diseases or even avoid them altogether. Unfortunately, many pet owners tend to underestimate the value of these visits because their pets appear to be healthy. However, this may be deceiving, since many diseases are often not evident in the early stages.
Heartworm
Similarly, heartworm disease is a serious threat that causes cardiovascular weakness and lung incapacity. Caused by Dirofilaria immitis, these worms plug up blood vessels, which places an increased workload on the heart, along with restricted blood flow to the lungs, kidneys, and liver. This can eventually lead to multiple organ failure, including heart failure and death. Visible signs of the disease often do not appear before the infection has caused significant and irreversible internal damage. As part of an annual physical examination, your veterinarian can perform a simple test to detect heartworm disease and prescribe an easy-to-use preventive.
Obesity
Your veterinarian can also determine whether or not your dog has an obesity problem. Obesity affects almost one out of every three pets, making it the most common nutritional disease among dogs and cats. Through visual assessment and palpation, your veterinarian can advise on whether or not your dog could benefit from a weight-reduction program.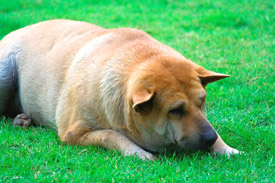 Questions and Answers
The check-up also provides pet owners with the opportunity to have their questions answered regarding health, nutrition, training and hygiene.
Obedience training is important for your pet's health because behavioral problems account for more deaths in dogs than any known disease. In fact, a well-trained and obedient dog is more likely to live to a ripe old age than a poorly trained one. Obedience-trained dogs are less likely to be involved in car accidents and dogfights, tend to be happier, and are less likely to have behavioral problems. The checkup provides an opportunity to discuss training techniques and behavior concerns with your veterinarian.
Feeding a proper diet rates as one of the most important considerations in health maintenance. Its importance lies not only in optimizing a pet's health, but also in the prevention and management of many diseases. Nutritional counseling is an essential part of the veterinarian's checkup and many owners use the opportunity to gain valuable advice on what to feed their pets.
What happens during an examination?
Before the physical examination begins, your veterinarian asks you questions concerning your dog's state of health. This is very important for determining whether or not there are problem areas that need to be addressed. For example, a "history" of poor weight gain or weight loss can provide a clue to your veterinarian that there may be a parasite problem. Intestinal parasites (worms and protozoans) are a common problem in pets because they carry with them the potential to kill your pet. This is particularly true in young puppies, but also holds true for adult animals. With a simple stool test, your veterinarian is able to detect the presence of these parasites.
After obtaining a history, your veterinarian performs a physical examination on your dog. Starting at the head, your veterinarian examines the eyes, ears, face, and mouth. Examining the teeth is especially important since up to 85 percent of all dogs and cats over four years of age have some degree of periodontal disease! Early detection of periodontal disease is important, not only for effective treatment but also future prevention.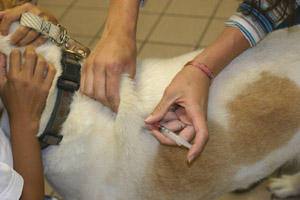 Disease detection
During the physical examination, your veterinarian listens to the chest with a stethoscope to make sure there are no respiratory or cardiovascular problems. For example, the early warning signs of heart failure can be detected in this way. Since more than 12 percent of the dog population experiences some form of heart problem in their lifetime that leads to heart failure, early detection is crucial.
Popular Cat Breeds
Cats are becoming the most popular household pets worldwide. There are more than 100 million house cats in the Western world and this figure is increasing. In the USA, 38 million households have cats and the total number of cats exceeds 90 million. There are many reasons for feline popularity. Cats make affectionate, extremely devoted and are low maintenance companions.
There are over a hundred recognized breeds of domestic cats. According to the Cat Fanciers Association, fewer than 3% of all owned cats worldwide are pedigreed. Unlike dog breeds, cat breeds are a relatively new concept and many are imports from other countries. Only for the last 20 years have we seen the diversity that makes up most of our cat breeds today.
Below is a list of some of the more common cat breeds of the world.
---
The Abyssinian is a very active, playful, and inquisitive breed. This slender, shorthaired breed is distinguished by its ticked tabby coat pattern, which is a pattern more commonly seen in wild cats. Though ruddy is the color most associated with the breed, "Abys" are available in blue, fawn, and red (also known as sorrel), as well.
Although the Abyssinian is one of the oldest known breeds, there continues to be speculation and controversy concerning its history. Recent studies by geneticists show that the most convincing origin of the Abyssinian breed is the coast of the Indian Ocean and parts of Southeast Asia.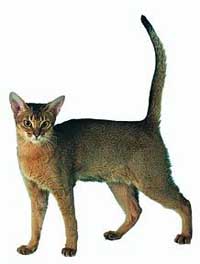 Abyssinian
---
The American Shorthair was developed from native American working cats. It is a moderately stocky, even-tempered cat with a short coat. Although this breed is accepted in a wide variety of colors and patterns, the silver classic tabby is perhaps best known.
The American Shorthair is America's own breed, whose ancestors are the cats that came to North America with the early pioneers from Europe. There are records that indicate several cats arrived on the Mayflower.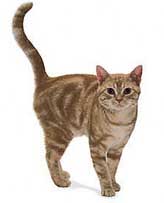 American Shorthair
---
Also known as the "Sacred Cat of Burma", the Birman has a number of fanciful legends associated with its origin. It is a semi-longhaired cat, accepted only in the pointed pattern, but is distinguished from the Balinese and Himalayan not only by its moderately stocky body type, but by its four white feet.
The Birman cat is believed to have originated in Burma, where it was considered the sacred companion cat of the Kittah priests.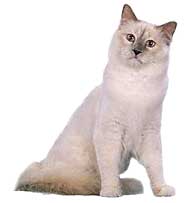 Birman
---
The Chartreux is an old natural breed which originated in France. There exists a lovely old legend that the Chartreux lived with, and were named for, the Carthusian monks of France, and perhaps even shared a tipple or two of their famous Chartreuse liqueur!
Known for its wooly blue coat, brilliant orange eyes, and smiling expression, it is a sturdy, quiet, sweet-tempered cat.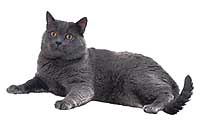 Chartreux
---
The Cornish Rex is known for its soft, wavy, curly hair: even the whiskers curl. Its coat feels like crushed velvet to the touch. The original Rex, a cream male named Kallibunker, was born in 1950 in Cornwall, England.
Today's Cornish Rex has a racy, slender body, and is found in a wide variety of colors and patterns.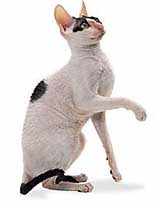 Cornish Rex
---
The Korat is a small cat known for its sleek silvery blue coat, heart-shaped face and prominent gooseberry-green eyes. Korats originated in Thailand, where they are regarded as "good luck" cats. They are energetic and affectionate companions.
The earliest known picture of a Korat, or Si-Sawat, cat is to be found in the ancient book of paintings and verses known as The Cat-Book Poems in Bangkok's National Library. It is believed by the Fine Arts Department, a division of Thailand's Ministry of Education, to have been produced some time during the Ayudhya Period of Siamese History (1350-1767). The gift of a pair of Si-Sawat cats to a bride ensures a fortunate marriage.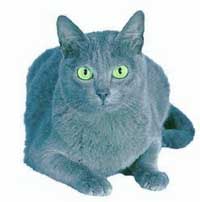 Korat
---
The Maine Coon is known for its large size, easy-going temperament, and rugged appearance. This native New England breed is well-adapted to that harsh climate, with a heavy, shaggy coat, bushy tail, and tufted ears and toes. Though the brown classic tabby pattern is perhaps the best known, Maine Coons are available in a variety of colors and patterns.
The Maine Coon Cat is the native American longhaired cat and was recognized as a specific breed in Maine where they were held in high regard for their mousing talents. Through nature's own breeding program, this breed has developed into a sturdy cat ideally suited to the harsh winters and varied seasons of the region.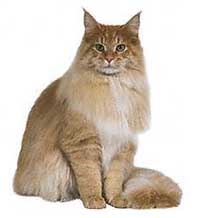 Maine Coon
---
The Manx is distinguished by a feature it lacks - a tail. This natural mutation is thought to have originated hundreds of years ago on the Isle of Man, off the coast of England, hence the name Manx. Since many trade ships docked on the Isle, and all had ship cats, it is hard to tell just what the parent cat really was. CFA has recognized the Manx as a breed since the 1920s.
The "Manx gene" produces cats with tails of varying length, from the "longie" (normal tail) to the "stumpy" (short tail) and "rumpy" (no tail). Manx cats are stocky and rounded in appearance, with short backs and long hind legs that make them appear rabbit-like. The thick coat can be either short or semi-long, though in some associations the longhairs are known as Cymrics. Manx are available in a variety of colors and patterns.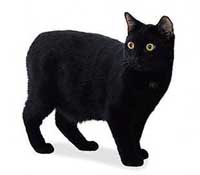 Manx
---
The Ocicat looks like a small wild spotted cat, but is in fact a domestic breed created by combining the Siamese, Abyssinian, and American Shorthair. "Ocis" are active, affectionate, and very social. They are available in various patterns, though only the spotted patterns may be shown, and in several different colors.
Feline enthusiasts have always been awed by the spotted cats of the wild: ocelots, margays, leopards and others. Never before was there such an effort to breed an entirely domestic cat that can offer the spotted beauty of the wild cats, while maintaining the lovely, predictable disposition of the domestic cat. With so many wild spotteds disappearing as their native habitats are destroyed and invaded, it is increasingly important that this man-made breed can satisfy people who want something "exotic."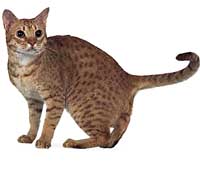 Ocicat
---
The Persian is perhaps the most widely recognized cat breed. It is certainly the most numerous of all the breeds. The Persian is known for its extremely long, fluffy coat, very stocky body type, round head, large eyes, and flat face. Persians have a sweet and gentle temperament, and are among the most placid of all breeds. Buyers are advised that the long, soft coat requires daily grooming.
Persians are available in a myriad of colors and patterns. Persians with the pointed ("Siamese") pattern are sometimes called Himalayans. In Britain, the Persian is known as the Longhair, and the Himalayan is known as the Colorpoint Longhair.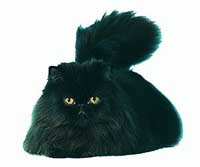 Persian
---
The Scottish Fold is characterized by its distinctive ears, which are folded forward and down, and by its large, rounded eyes, which give it a sweet, wide-eyed expression. They are mellow and affectionate cats. Scottish Folds are found in both longhair and shorthair varieties, in a great number of color and pattern combinations.
In 1961 a shepherd by the name of William Ross spotted the first known Scottish Fold cat at a farm near Coupar Angus in the Tayside Region of Scotland, Northwest of Dundee. The unique thing about this cat was that her ears folded forward and downward on her head. The resulting look gave the impression of a "pixie", "owl", or "teddy bear" that has captured the hearts of many American cat fanciers. Scottish Fold kittens are born with straight ears. At about three to four weeks of age, their ears fold...or they don't!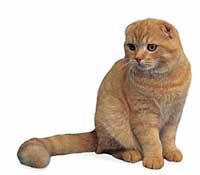 Scottish Fold
---
The Siamese is distinguished by its brilliant blue eyes and its colored "points" (ears, face, tail, and feet), which provide a striking contrast to its light-colored body. It is vocal, demanding, lively, and affectionate. Today's show Siamese display a very long, slender body type and a long, wedge-shaped head with huge ears. Some breeders work with a more moderate, rounded type of Siamese, known as the Traditional (Applehead) Siamese.
Siamese were originally recognized in the seal, blue, chocolate, and lilac point colors. In some associations, additional colors and patterns are accepted as part of the Siamese breed, while other associations call these cats Colorpoint Shorthairs.
Having been nurtured and protected within temple walls for centuries, a fact documented in art and literature, the Siamese became known to the rest of the world through the royal family of Siam. What better gift to present to a visiting dignitary than these beautiful native treasures? This is exactly the way this breed became known outside the borders of what we now call Thailand.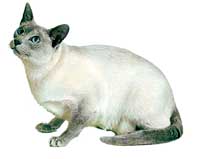 Siamese
---
The Tonkinese was produced by crossing the Burmese and Siamese breeds. This playful, people-oriented breed has a moderate body type and a sleek, soft coat, and features a unique pattern known as "mink": it is pointed like the Siamese, but the body is colored in a shade harmonizing with the point color, and the eyes are aqua in shade. "Tonks" are available in a range of colors intermediate between their Burmese and Siamese parent breeds. In some associations non-mink colors and patterns are also accepted.
Caring for Tonkinese is as easy as feeding a well-balanced feline diet, clipping their nails weekly (providing a scratching post and insisting they use it is also imperative), using a rubber brush to groom them, and of course the all important visit to the vet for check-ups and inoculations.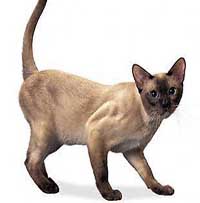 Tonkinese
---
The Turkish Van is a semi-longhaired cat distinguished by its unusual pattern: the cat is white except for a colored tail and color on the head. (This is called the "Van" pattern, and is seen in other breeds as well.) Turkish Vans are said to be fond of water and swimming.
The cat known in the United States as the Turkish Van is a rare and ancient breed that developed in central and southwest Asia, which today encompasses the countries of Iran, Iraq, southwest Soviet Union and Far Eastern Turkey. They are considered regional treasures in their homeland.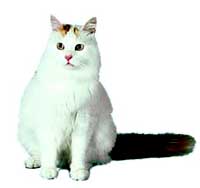 Turkish Van